Being an engineer in today's modern construction materials operation affords the exciting opportunity to apply the spectrum of engineering skills from structural design and fabrication, installation of high-tech operating equipment, and environmental design to assure a responsible, well-run operation. None may know this better than our very own George Honeycutt, an engineering technician who has been a dedicated employee for the past 43 years.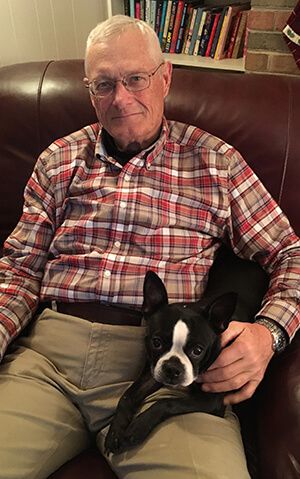 George spent hours as a kid building machines and structures at home before pursuing his natural knack with mechanics by attending North Carolina State for two years, majoring in Math and Engineering. However, life had other plans, which didn't include graduating. After getting married, George worked at a big steel fabricator engineering office before moving on to Wise County, VA, where he installed a system to make mine safety dust. His work, driven by his enthusiasm, led to the project owner putting George in charge of his three quarry operations.
In 1978, George found his home at Boxley. First, as the Superintendent at our Martinsville Plant, then transferring to Blue Ridge in 1981. When the prospect of joining the engineering department popped up in 1992, George jumped at the opportunity and has been there ever since.
"If you're doing something you love, you won't feel like it's work. Instead, you will find yourself immersed in your work and have fun doing it! Follow whatever occupation you gravitate to, be the best at what you do, and go to the best company you can find to start your career," advises George.
George's passion for his work and dedication to the Boxley way has made him a well-known, beloved face and personality around our locations. He's played an integral role in countless projects' success, from structural design and fabrication through project management to assuring specifications are followed regarding the strength and safety of the materials. Once construction is complete, the start-up begins. An engineer's job is done when all the goals are achieved and the operators are familiar with the process and maintenance required.
At Boxley, closing one project just means 'on to the next.' Engineers like George stay busy year-round orchestrating projects across the different business lines to ensure our employees, customers, and vendors are safe when on our property.
"It is very gratifying to be involved in all the phases and see everything come to fruition," he added.
As George heads toward the next phase of his life, there's no doubt the impact he's had on this company will remind the future of what can get accomplished when you follow your heart. We are grateful for the positive impact he has made, not only as an outstanding engineer but as an effective leader and teammate.
"Nearing retirement, I have found this to be the best job, and the best company one could ever expect. No regrets!"
If you have interest or questions about pursuing a career within the Summit Materials family or would like to learn more about the Management Trainee Program, please reach out to Manisha Hall at (540) 777-7613.