A path to a career in construction, specifically at our Fieldale quarry, was laid out to Stacy Barbour before graduating high school. Throughout his 22 years at Boxley, Stacy's ability to utilize team input for forward-looking plans has been instrumental in accomplishing goals. It did not go unnoticed—no matter the position he held.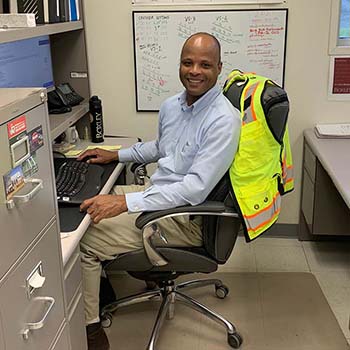 "My dad was a truck driver; he hauled a lot of material out of this location during the daytime and worked at night. One time, right before I was about to graduate high school, we were here getting loaded with crusher-run. As the loader approached the truck, he looked at me and said, 'learn how to work on those things, and you can make some money.' So, I joined the Army, and that's what I did. When I got out, I came back to Fieldale where it all started."—Stacy Barbour (Operations Manager at Fieldale Quarry)
Stacy has held five different positions since joining Boxley through an acquisition in 1999: all but one stationed out of Fieldale. He started in the mobile equipment shop and accepted the Leadman role for the stationary plant on the second shift within two years. He was promoted to Maintenance Foreman, a position he held for over a decade before accepting the Director of Safety position. Within the year, he would again get promoted and headed back to Fieldale to take on his current role—Operations Manager.
Leading by example, Stacy shares what he thinks the younger generations need to know about pursuing a career in construction, "Work hard! When you have ideas that could make a difference in the industry, bring them up. Challenge yourself by taking growth opportunities."
There are a lot of skilled trades within the mining industry; if you are a young adult with questions about a future Career in Construction, please reach out to Manisha Hall at (540) 777-7613. Or if you are interested in next year's Management Trainee Intern program, click here.